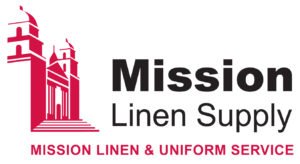 Mission Linen Supply
As a proud member and long time supporter of the Arizona Restaurant Association, we strongly believe in the benefits of ARA membership, not only for your individual business, but for the industry as a whole.
That's why when you do business with Mission you receive up to $300 service credit toward your annual ARA dues. Contact Mission for a FREE needs analysis and learn how we deliver everything you need – linens, uniforms, apparel, towels, aprons, and restroom supplies – 24/7.
Why Choose Mission?
Mission is a family owned company that has been successfully serving its customers since 1930. We have the experience and expertise to understand what a restaurant needs and expects from a textile service provider, and we do MORE.
From creating an attractive front of the house experience for your customers with table linens and employee uniforms, to outfitting your kitchen in the latest in chef apparel, to making sure your restrooms are always stocked. We take care of your linen, uniform, and restroom supply needs so you can take care of your customers.
Contact us today to learn how we can help you simplify your business and save you money. Visit www.missionlinen.com or call your local Mission facility:
Flagstaff – (928) 174-1891 │ Phoenix – (602) 271-9114 │ Tucson – (520) 631-0952