Foodist Awards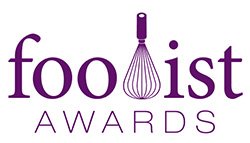 In Arizona, there's one common ingredient in every dish we serve: authenticity.  From sizzling southwestern joints to award-winning chef-owned dining rooms, our commitment to culinary excellence has made our cities a delicious destination for deliberate foodies.
On October 19, 2017 we invite you to have a seat at our table as we honor the culinary minds that have helped shape Arizona's vast culinary landscape at the 2017 Foodist Awards.
Celebrate with the industry during the four course awards dinner at the Showcase Room, as we recognize the most amazing tastes, faces and places in Arizona food and beverage.
The Foodist Awards are produced by the Arizona Restaurant Association with a portion of every ticket purchased directly supporting Arizona's ProStart Culinary Education Program - developing the best and brightest talent into tomorrow's restaurant and foodservice leaders.
Want more info?
Check out the official Foodist Awards website.
Interested in becoming a Foodist Awards Sponsor?
Check our sponsorship packet here.