ARA Legislative Accomplishments

Please click here for the 2017 Legislative Summary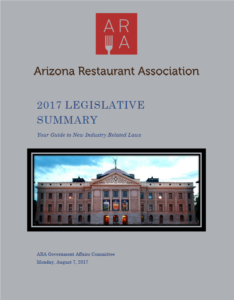 2016
Made regulating plastic bags, food containers, and auxiliary containers a matter of statewide concern, preventing local governments from adopting further rules.

Ensured local government compliance with state law by reallocating state shared revenue of cities in violation of state law.

Restored and expanded funding for Joint Technical Education Districts (JTEDs), many of which support culinary programs.

Preempted city regulation of non-wage compensation, such as vacation pay, commissions, and severance pay.

Preempted city regulations dealing with employee scheduling.


2015:
Extended the amount of time an employer has to review and protest unemployment insurance claims to ten business days.

Ensured any regulation made on restaurant auxiliary containers or plastic bags not be done at the city level, allowing statewide consistency.

Stopped legislation from becoming law that would prohibit the use of electronic benefit cards in quick service restaurants.
2014:
Standardized the acceptance of online access to county food handler training programs while maintaining the same high standards of food safety.
2013:
Limited the definition of service animal to coincide with the Americans with Disabilities Act, limiting the use of service animals to specific types of animals that perform specific functions.

Preempted legislation to preclude local jurisdictions from passing ordinances or policies that mandate employee leave, vacation time and other benefits.
2012:
Dramatically amended an ordinance proposed by Maricopa County to regulate play areas.
2011:
Prohibited local governments from adopting policies that would disallow restaurants from including a toy in a kid's meal.
2009:
Amended the language of a bill, giving restaurant owners discretion in allowing guns in
their establishment.
2007:
Defeated a Pima County effort to impose increased impact fees on restaurants with drive-thrus.